Posted on February 9th, 2021
Writer in Residence – Expressions of Interest
A 10-12 month opportunity to have a positive impact on people's lives and help break the stigma around alcohol and drug use and dependence.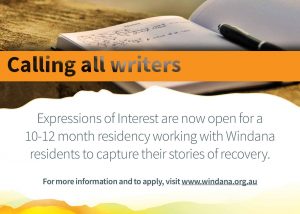 Windana is looking for writers who have experience helping people write and capture their story of recovery to work with residents of our Therapeutic Communities (TC's) in Maryknoll and Ballarat.
Like other traumatic experiences, alcohol and drug dependence can damage a person's sense of self and cause them to lose track of their life story.
Writing and talking about their life story as part of a treatment program can play an important part on a resident's path of healing. This project will help residents rediscover who they are (identity) and how they feel about themselves (self-esteem).
From these stories, we'll create a suite of products to share the story of recovery to counter the stigma and misinformation around alcohol and drug use and addiction, treatment and recovery.
What we'll offer you
The chance to make a meaningful and profound impact on people's lives.
Flexible working arrangements – We anticipate this project will require a commitment of at least 20 hours a week. We will work with the selected writer/s to agree on the most suitable hours and ways of working.
All equipment and supplies will be provided.
Successful writer/s will be paid as a contractor with a negotiable hourly rate (~$40-$60 p/h), based on experience.
Expressions of Interest close at 5.00pm on Wednesday 10 March.
Key documents