In this new story series, we're introducing you to Windana's General Managers. First up is Mark O'Brien, who joined us in 2022 as General Manager Rehabilitation Services – leading our Maryknoll, Grampians and Barwon Therapeutic Communities plus a host of Community Programs.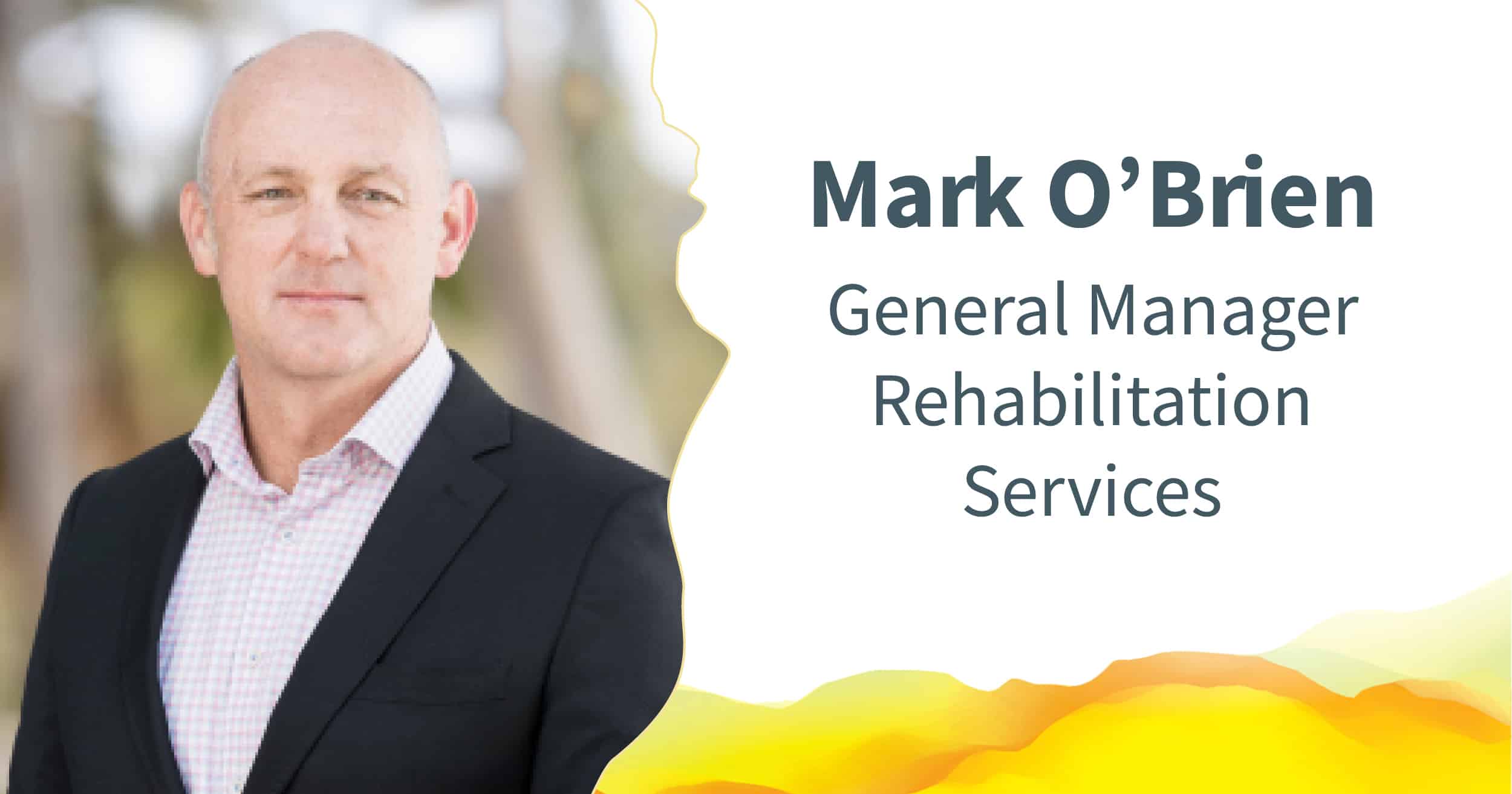 Mark believes humans are a collection of experiences.
"There's an increasing acknowledgment of the relationships between health, education, social connection and mental health," says Mark.
"We need to acknowledge intersectionality."
This philosophy – based around the social determinants of health – drives Mark to tackle key areas that research shows help people to rebuild their lives.
In his role in Windana's Executive team, Mark focuses on making sure structures are in place so our Rehabilitation Services are best placed to deliver safe, high-quality support. This includes developing evidence-based programs that draw on each person's strengths and supporting Therapeutic Community leaders to thrive.
"I'm constantly looking to see if we've got a system or process – and asking does it work, does it fit into a legislative compliance framework, is its aim to support a client's self-efficacy, and how do we support staff and residents to know about it."
Within this space, Mark is passionate about addressing the unique needs of residents and clients from several angles.
"We should start with ensuring people have access to the basics and then move forward from there."
This principle draws on Maslow's Hierarchy of Needs – which groups the needs of people into five levels (ranging from food, water and air to achieving one's full potential) with the idea that once a level is satisfied, a person can work to realise the next level.
Another area Mark considers is the trauma people have often experienced, and Windana's need to create a safe space at our Therapeutic Communities for residents to receive information that's relevant to their lives.
This information needs to be available in inclusive and accessible ways.
"People are generally visual, audio or physical in their learning styles," explains Mark, "So we need to make sure we provide multiple ways of imparting information, and a save space for people to reflect."
Along with an open mind, Mark brings experience working in diverse clinical and leadership roles to Windana.
"I trained as a nurse in Queensland, and working with people in active alcohol withdrawal on my ward led to me doing a Graduate Certificate in Addiction."
Mark gained further alcohol and other drug training in the 1990s. He then moved to Alice Springs to work at the local hospital, and then onto Utopia and Tjuntjuntjara, managing regional health clinics. Later, Mark worked in Neonatal Intensive Care in Victoria and at a regional New South Wales hospital before spending years working with marginalised young people in mental health, homelessness and justice services.
Mark used his strength-building approach to work with clients and staff in these varied settings.
"The common theme for me over the last decade is that most people are unaware of the systems – including health, education, housing, employment – that are there to help them," says Mark.
"I've worked towards building teams that focus on enabling a person's self-efficacy."
For a healthy balance, Mark keeps active by playing and coaching team sports and making furniture.
"Sport nurtures the physical challenge as part of a collective. Making and repairing furniture uses the creative and problem-solving parts of my brain, while providing the quiet, restorative space that I need as an introvert."
One of Mark's favourite quotes is by poet Tennyson from his poem Ulysses. It perfectly captures Mark's humble yet wise approach to leadership at Windana.
"I am a part of all that I have met… How dull it is to pause, to make an end.
To rust unburnish'd, not to shine in use!