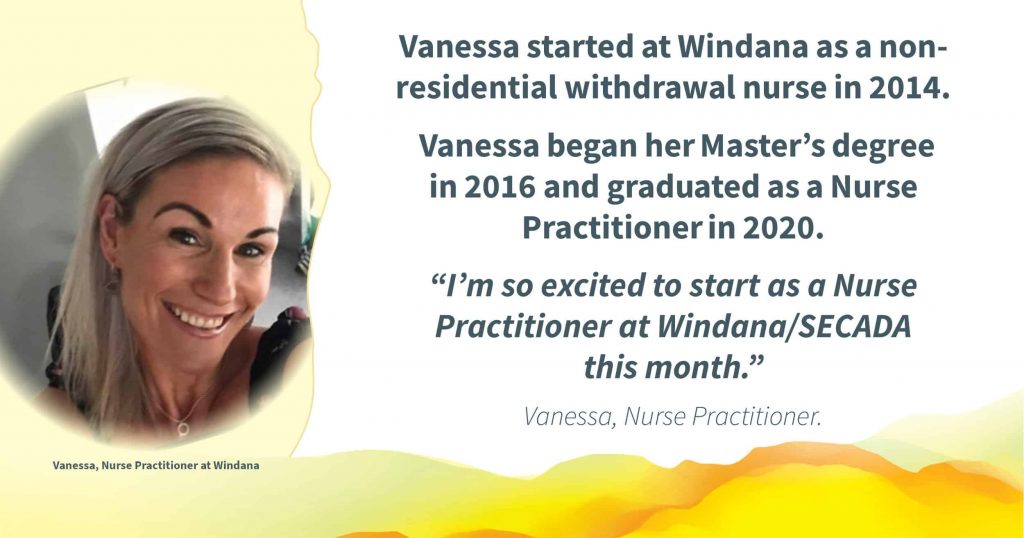 Vanessa started at Windana as a non-residential withdrawal nurse in 2014. After some time working with clients and GPs, Vanessa saw ways she could improve the outcomes for clients.
"In 2014 I began sitting in consultation with clients and their GP. Clients presented anxious, apprehensive and yet motivated towards the withdrawal journey," Vanessa said.
In several cases, Vanessa explained, the GP couldn't provide the specialised care clients needed.
"After meeting a client and hearing their situation, often a GP would reply with 'I can't prescribe that medication' or I would need to refer you to an addiction specialist'."
The client would leave the clinic deflated with increased anxiety, and Vanessa would leave feeling disappointed.
"That's when I decided my passion was to reduce this outcome for clients and make their journey as smooth and supported as possible."
So began Vanessa's journey to become a Nurse Practitioner.
Vanessa studied her Master's in Nurse Practitioner online at Flinders University, South Australia, and was fortunate to receive some financial help via a full scholarship.
"I was a single mother of two young children and working full time so financially not that comfortable. I applied for a full scholarship to pay for the degree through the South Eastern PHN, and received the $10,000.00!"
Vanessa began her Master's degree in 2016 and graduated in July 2020 as a Nurse Practitioner. She was endorsed by APHRA to prescribe in October 2020, and December 2020 was offered the role as Nurse Practitioner with Windana.
"I'm so excited to have been offered the position at Windana/SECADA as Nurse Practitioner, starting later this month."
As a primary health care nurse practitioner, Vanessa will be able to provide increased support for clients.
"In this new role I'll be able to prescribe pharmacology and pharmacotherapy for clients, prescribe and determine pathology results and complete specialists' referrals. These will predominantly be bulk billed psychiatric assessments/medication reviews."
"I have learnt through my journey that you can honestly do whatever you put your mind to. Challenges will come in the way but with strength, resilience, and supportive networks you will achieve what you set out to accomplish," she said.