With 34% of people who use our services having children or dependents, there's a definite need to support clients as they work towards achieving their family relationship goals. We spoke with Kaydee, Windana's Program Coordinator Community Services, to find out why it's so important to support families – and how we do it.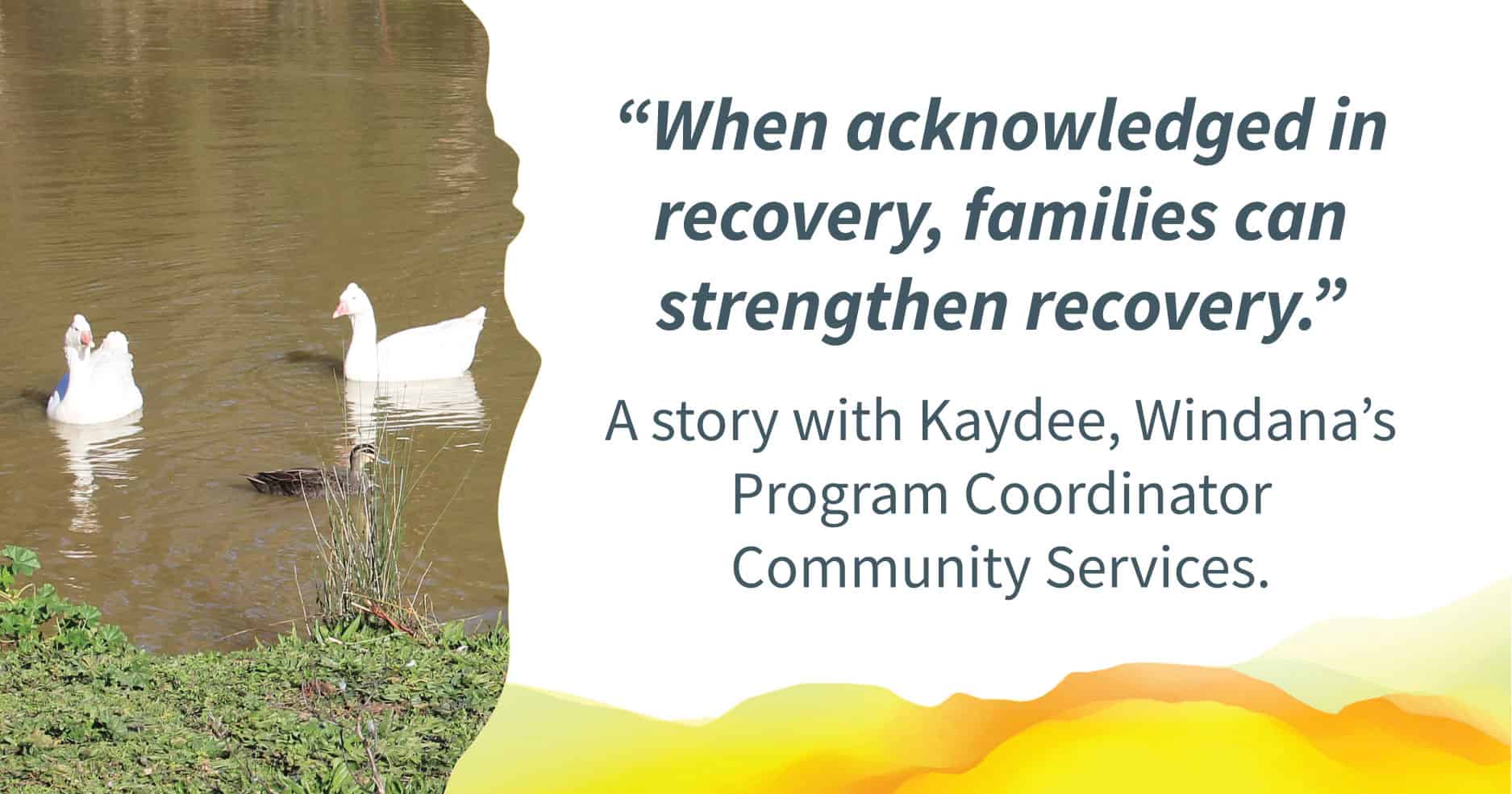 "Families are an integral part of the human experience," says Kaydee. "When acknowledged in recovery, families can strengthen recovery."
It's for this reason various family supports are embedded across our different programs and services at Windana.
"We know that changes can be made, supported and maintained through open communication with people who care about and love a person in recovery."
Furthermore, a person's social relationships – including with their family – can influence substance use in many complex ways. It's important for people to have the opportunity to explore these links.
When we talk about "family" at Windana, we include families in all their forms.
"We embrace diversity by firstly celebrating a family's uniqueness," says Kaydee.
"By allowing people to define what family is for them, we create a space that is non-judgemental and inclusive – allowing challenges to be heard."
"Each family has its unique strengths, and these can be used in a person's recovery."
So, how exactly do we work with clients to strengthen family bonds?
Firstly, there's our 'Family Program'. This includes a range of groups and activities that clients can choose to participate in according to their goals and family needs.
A Parenting Group works interactively with parents to build skills across a broad range of challenges that parents face. Whilst there are regular topics covered, often the content of a session is driven by what participants are currently experiencing with their kids.
Tuning into Kids is a group that runs over six weeks, specifically designed to help parents become skilled 'emotion coaches' for their kids.
The Yarning Group (run in partnership with Winja Ulupna Women's Recovery Centre) provides a culturally-safe space for First Nations women to talk about parenting and family.
We also run Family Day social events for families connected to Windana's services. These are an opportunity for family members to bond and have fun, while making new friends.
Most of these groups are run in St Kilda, with versions also available at our residential rehabilitation communities.
Kaydee's team supports clients across Windana's services in other ways – including consulting with other staff when a client or TC resident would benefit from their specialised expertise.
There are also two types of casework available with referral: short-term and long-term.
Short-term casework usually involves one-three sessions with a client to identify goals around family relationships. A family-inclusive appointment might also be offered – and the Family Worker may refer a client to external services, such as ongoing Family Therapy.
Long-term casework focuses on the needs of individuals and families who have children in their care – or are working on a plan to get children placed back into their care. A common goal here is rebuilding relationships and trust while re-opening lines of communication between family members who love and care for each other.
The work that Kaydee's team does is all about helping to start conversations and building skills that improve family cohesion. While their primarily focus is on the needs of the client first and foremost, they can also work with family members in what's called a Single Session Family Consult.
Across all settings the team refer clients to any services that may be required such – as legal, housing and health services.
It's important to note that support – including the Family Program and casework – is available to clients across Windana's different programs and services (including a Parenting Group at Maryknoll TC), and to the broader community with referral.
When understanding of the importance of family in recovery, Kaydee encourages all of us to remember that everyone is part of a larger 'ecosystem'.
"By strengthening relationships and connection, a person can improve their life."
Useful resources:
Windana Family Program leaflet
A two-page PDF leaflet with information on the program including overview, eligibility and referral information.
Family Drug Support
A service family can contact for support with drug and alcohol use in the family, plus, information on counselling, support groups and education programs.
PH: 1300 368 186 (24/7)
SHARC Family Drug & Gambling Helpline
Providing practical help, information and support to families and friends affected by someone's drinking, drug use or gambling.
PH: 1300 600 068 (24/7)
DirectLine
Offering alcohol and other drug counselling and referrals, DirectLine is a first step for getting support and finding a local Intake and Assessment service.
PH: 1800 888 236 (24/7)
Safe Steps
Specialist support services for anyone in Victoria who is experiencing or afraid of family violence.
PH: 1800 015 188
LifeLine
Around-the-clock crisis support and suicide prevention services, so that nobody has to face their darkest moments alone.
PH: 13 11 14 (24/7)