Care warning: this story discusses mental health issues and alcohol/other drugs.
Today is R U OK? Day. It's a reminder to connect with others and offer support if someone is struggling. This year's message is "No qualifications needed" – as any of us can start a conversation. We had a chat with Anne-Maree – who's our Program Manager Community Services and an expert in mental health – for advice on feeling prepared to start meaningful conversations, while looking after ourselves too.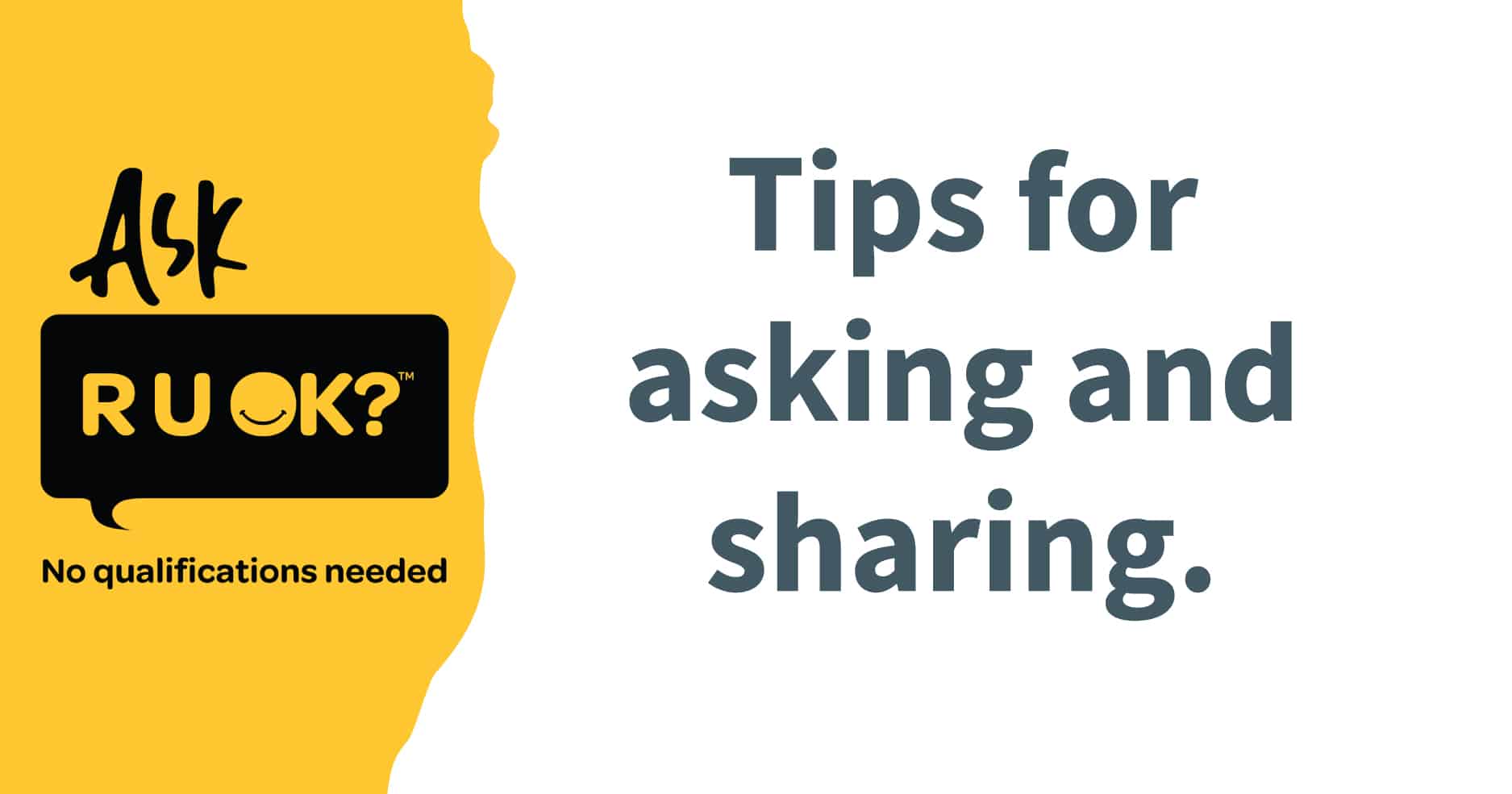 Hi Anne-Maree! How come people often don't feel confident asking someone if they're OK?
Raising the issue can be very difficult. There are many reasons why people are hesitant. It may bring up past trauma for those wanting to help. People may feel uneasy about the answer that will be given. However, finding the courage can be life-changing. Realising that you don't have to be an expert, but just being a friend or support can make a difference!
What advice do you have to help people feel more prepared in asking someone if they're OK?
Being aware of what can help is one option. Some key supports are family members, GPs and crisis lines (check out the links at the end of this story). There are professionals trained to help those at risk. Sometimes it's not about problem solving. It's about listening. We can put pressure on ourselves by coming up with lots of solutions, when what's needed most is a person who sits, listens and offers comfort.
If a person says "No, I'm not OK" – particularly when alcohol and other drugs are part of the issue – what's a good way to respond?
I would suggest the response is based on the relationship you have with the person, which will guide the way forward. If the person is known, it may be about reconnecting with services or a family GP. If not, it may be about assessing harm and listening to what the person has to say. What are they wanting to do?
If I'm concerned someone I care about is struggling with alcohol/other drug issues and I want to help them, do you have any advice on how to start a conversation that will make my loved one feel supported – not judged?
It's all about timing. Creating an environment where a conversation can occur. Perhaps not when the person is intoxicated, or substance affected. They may not know how you can help them. Keep in touch and be ready for the moment when dialogue can occur in a respectful way.
If I've asked someone if they're OK which has led to a serious conversation or disclosure, how do I make sure I'm OK afterwards?
Everyone is different, but the key issue is to reach out for support if you feel uncomfortable or troubled. Speaking to a friend you can trust is helpful. Debrief with an appropriate person. Difficult conversations can be hard to process particularly with family and friends. However, there are a range of services that can assist (some of these are listed below). Your workplace might also have an Employee Assistance Program that can help.
Finally, do you have any advice to help a person who isn't feeling OK tell someone and connect with support? Is there specific advice for people who are struggling with alcohol and other drugs?
It's about the relationship that you have with the person you choose to speak to. With some people you can be more direct than with others. There may be times when you're feeling hopeless, but these conversations must be about hope.
If you don't feel like reaching out to someone you know personally, it is sometimes easier to pick up the phone to speak to a support service. Be kind to yourself when reaching out – as it can be daunting to take that step. I have had people drive in and out of the driveway multiple times before they found the courage to come into the clinic. Hearing the words come out of your mouth when you are depressed or have a drug and alcohol problem can be very confronting and emotional. Some people can experience a great deal of shame, they may have been in denial, never thought it would happen to them or they may have been down the road before and feel embarrassed. If you feel this way – remember you're not alone, and there's support available based around the principles of respect and non-judgement.
If you're struggling to reach out to support services alone, ask a friend to accompany you to the clinic or doctor, or sit with you while you make the call. This can mean a lot, and be the start of your recovery journey.
24-hour support
Lifeline
Crisis support and suicide prevention services, so that nobody has to face their darkest moments alone.
Call: 13 11 14
Text: 0477 131 114
Link: www.lifeline.org.au
DirectLine
Counselling, information and referral service alcohol or drug-related issues.
Call: 1800 88 8236
Link: www.directline.org.au
BeyondBlue
Information and support for anxiety, depression and suicide prevention for everyone in Australia.
Call: 1300 22 4636
Link: www.beyondblue.org.au
Kids Helpline
Telephone counselling service for people aged between 5 and 25.
Call: 1800 55 1800
Link: www.kidshelpline.com.au
Family Drug Support
Support for people affected by a family member's drug or alcohol use.
Call: 1300 36 8186
Link: www.fds.org.au
SHARC Family Drug & Gambling Helpline
Providing practical help, information and support to families and friends affected by someone's drinking, drug use or gambling.
Call: 1300 60 0068
Other useful resources
R U OK? Conversation Guide
Explores how to prepare for a conversation, ask, listen, encourage action and check in.
Link: https://irp.cdn-website.com/22b3e3c9/files/uploaded/220712_EV_Day_2022_ConversationGuide_LR.pdf