There's been a stirring in the garden at Maryknoll. Community Gardener Jane fills us in on the work residents have been doing over winter, and what will be blossoming over the coming season.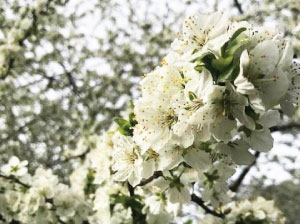 How has the garden fared over our harsh Maryknoll winter?
The winter months provide an opportunity for growing our hearty winter veg. We have kale, cauli's, broccoli, silverbeet, Brussels Sprouts, peas, lettuces, endive, garlic, beetroots, onions, coriander, lemons, limes etc.
The frosts are beautiful, and I'm pleased to say we haven't lost any plants this year, learned through experience! As you'd expect, its muddy and cold, but we are still getting fabulous results from the greenhouse with our spring/summer seeds starting to sprout already.
What have we been working on and what preparations have we made for spring?
Our gardens are well prepped and ready for spring. Garden beds around the houses have received lots of TLC, having been weeded, pruned and mulched. The soil in the vegetable garden has been nourished with compost, worm tea and castings, cow, alpaca and chicken manures, all TC grown! Cold, wet weather means we have done lots of propagating, including flowering and scented plants from our sensory garden, and succulents.
We have just commenced planting an extensive orchard, including nectarines, peaches, blueberries, pears, apples, raspberries, mandarins, oranges, grapefruit and olives.
Our indoor projects included kokedamas, creating garden mandalas, sampling our home grown herbal teas, planting garlic seeds, making homemade bath salts with lavender from our gardens and soaking our feet in lemon foot baths!
How is the native plant nursery going?
The native nursery is progressing well. We have been nurturing them over these cold months, initially in the greenhouse then out to the shadehouse to adjust to the outside conditions.
Early December is the time to start propagating, and I am looking forward to regenerating our precious bushland with indigenous species grown by the TC.
What should we see sprouting, blossoming or fruiting over the coming few months?
The plum tree is beautiful at present, covered in white blossom. Our citrus trees are laden with fruit, and any minute now the fruit trees will be budding. Our bulbs are up, providing subtle perfumes. We have planted a number of our spring seeds and have rocket, lettuce, sunflowers, tomatoes, pumpkins and peas sprouting happily.
What else is news from the garden?
Our resident finches, wrens and pardalotes have been super active, enjoying the winter flowering plants we grow, as well as dipping into our worm farms. One resident with an interest in roses has taken cuttings for the first time and they are budding beautifully! Our resident geese have started nesting, and our two peacocks seem very happy at the TC, with Pete's Place being their favourite haunt.