Care warning: this story discusses drug overdose and lives lost.
Each year International Overdose Awareness Day takes place on 31 August. It's a campaign to end overdose, remember those who have been lost, acknowledge family and friends left behind and remind us to always challenge stigma. This year we're reflecting on the ways the community has worked together to prevent overdose, and how we can all learn to be overdose aware.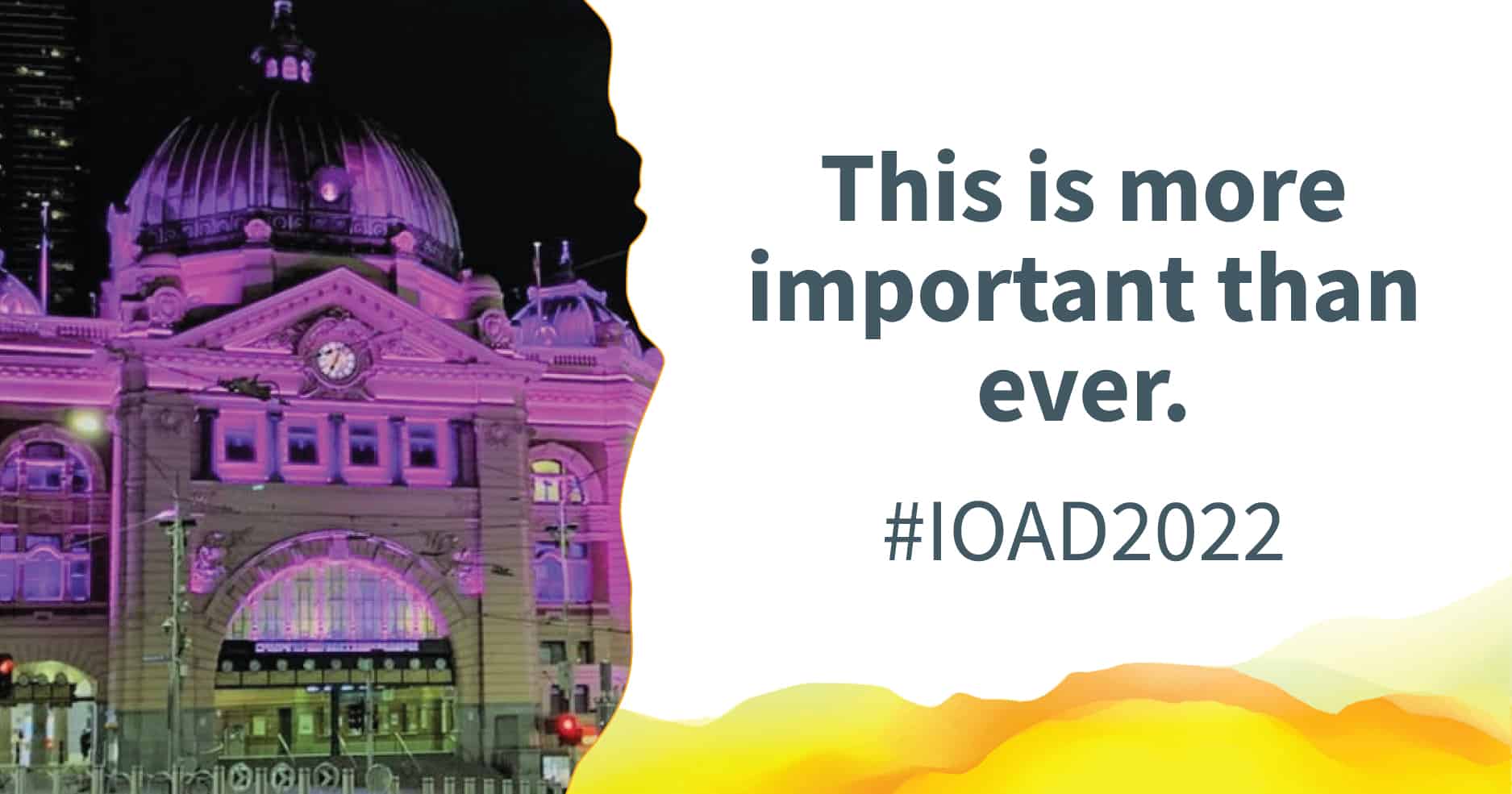 Last year, Victoria lost 500 people to overdose.
The Victorian Overdose Deaths 2021-2022 Report (released yesterday on 30 August) showed that numbers of people lost due to overdose are declining from their 2018 peak. However, the Report also showed that 73.6% deaths involved multiple drugs, and that pharmaceutical drugs were involved in 75.2% of deaths. Whilst deaths involving heroin have declined, those involving methamphetamines have reached their highest number in a decade.
These deaths are preventable. By raising awareness through education, Harm Reduction principles and evidence-based policies that break down barriers to getting support – we can help build a more resilient community and continue to lower the numbers of people lost. As the International Overdose Awareness Day campaign message says: "This is more important than ever."
Hope and progress
However, the community has taken steps in the right direction for preventing overdose.
Back in July, it was announced that people in all states and territories can now access Naloxone from pharmacies – for free, and with no prescription. This wonderful news was due to the expansion of the successful Take Home Naloxone program and will see more lives saved by preventing opioid overdose. People who are at risk of overdose, or at risk of witnessing overdose, can contact a local pharmacy to request Naloxone or for information.
Today on the steps of Parliament House in Melbourne's CBD, people who use drugs and their allies are gathering for Harm Reduction Victoria's rally demanding change that will prevent overdose – including decriminalisation of illicit drugs, better access to treatments of choice and an end to the policies that perpetuate stigma.
Tonight, as people see landmarks around the country glowing purple, communities will remember people we have lost, and feel empathy to those who have been touched. Days like International Overdose Awareness Day are so important as they spark conversations and increase awareness – chipping away at the stigma that prevents people from seeking support, and our society from viewing substance use as a health issue.
Every day, people working in the alcohol and other drugs (AOD) sector provide Harm Reduction education to clients – so that people who actively use drugs are equipped with strategies and knowledge that could save a life. Workers in the sector also use their influence to create more supportive medical, social and legal systems. The AOD sector aims to work in collaboration with Harm Reduction programs in Victoria to reduce the harms of drug use in our communities.
Learning to be Overdose Aware in 2022
To understand what overdose is, it's important to reconsider any limiting ideas about who is affected. Overdose is a human experience that reaches all communities, regardless of a person's background, location or personal story. It's also vital to remember that overdose can be from any substance (or combination of substances) – including prescription medications.
If someone is suspected to be experiencing an overdose, the first thing to do is administer Naloxone if available using the instructions provided, and then call 000 for medical assistance (see the 'How to administer Naloxone' link at the end of this article for more info). However, exploring overdose information and resources beforehand is so important as it helps prepare us to recognise and respond. Anyone – family, friends, partners, colleagues and members of the wider community – can learn practical skills that could make a big difference to someone.
The Australian Drug Foundation provides some great resources – including factsheets on different drugs. A good place to start is their Overdose page that explores the varying signs and symptoms of overdose for different types of substances – such as depressants (including alcohol and heroin), stimulants and other drugs – and how to respond.
Another place to find good information is Star Health's Overdose Prevention and Response page. As part of their suite of International Overdose Awareness Day resources, Penington Institute has also shared factsheets about common substances and what to do if someone overdoses. You can view these by clicking the links below.
Today – like every day – it is time to remember, and time to act.
24-hour support
Emergencies
PH: 000
Lifeline
PH: 13 11 14
Link: https://www.lifeline.org.au
DirectLine (counselling, information and referral service alcohol or drug-related issues)
PH: 1800 888 236
Link: https://www.directline.org.au/
Family Drug Support Australia (support for families affected by alcohol and other drug issues)
PH: 1300 368 186
Link: https://www.fds.org.au/
Other useful resources
How to administer naloxone
Australian Government Department of Health page about when Naloxone should be given to a person, who should give it and how it is given. Learn where to go for help and support if you need it.
Link: https://www.health.gov.au/initiatives-and-programs/take-home-naloxone-pilot/how-to-administer-naloxone
International Overdose Awareness Day
Homepage of International Overdose Awareness Day 2022, an initiative of the Penington Institute. Includes a section where people can post tributes for lost loved ones, overdose information and campaign resources.
Link: https://www.overdoseday.com/
IOAD on social media