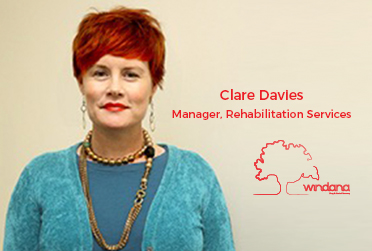 After four years in her role as Manager, Rehabilitation Services, Clare Davies is still waiting for a "typical day". This week, there is a major accreditation and audit inspection of the Maryknoll TC and the constant demands of staying connected to her team of 25 staff as they work across Windana's rehabilitation services including after-care and transition services; a regional program in Moe; a housing program and a roster of volunteers. "There are jobs galore," she says.
Davies' mindset of continuous improvement comes from her deep commitment to supporting people through the recovery process. "I really like working with people that are notoriously difficult to work with," she says. "I have an unshakable faith in peoples' ability to change."
Davies has worked with marginalized people including refugees and asylum seekers but keeps coming back to support people struggling with addiction. She loathes the prevailing 'once a junkie, always a junkie' mentality. "I've rarely met anyone who comes to rehabilitation that does not have a severe trauma issue," she says. "There is always something complex underneath the drug and alcohol use."
Rather than looking at clients in recovery from a deficit approach, Davies prefers to take an open-minded, strength-based approach. "Windana is not pigeon holed into a narrow view of recovery," she says. "We don't put our own bias in the front of rehabilitation options." Just because Davies doesn't like a particular modality, it could be the breakthrough therapy for the client. Taking this broad approach, having a range of options and ensuring that whatever needs to be addressed gets addressed, for Davies, takes the rehabilitation beyond AOD education. "We give people as much information and knowledge that we can so that they can make new life choices. You are looking at a person within a broader system instead," she says.
While change and recovery through drug and/or alcohol rehabilitation are complex, for Davies, recovery is very, very possible. "It is my responsibility to support my team to stay on the job, supporting the Windana culture and ensuring that nothing gets missed that needs doing." She can't wait for the auditors to experience first-hand Windana's Community-as- Method during the week. "This is a fundamental principal of what makes a therapeutic community different from a rehabilitation model. This model has the community at the top of the pyramid. The professional staff are there to support the community to go through the change physically and psychologically," she says. "The change happens through the community itself."
Also on Davies' to-do list right now is raising a 20-month-old, completing the very last unit of her Master's of Social Work at RMIT University and the roll out of Windana's new outcomes measurement framework. The new system will deliver greater transparency in how well Windana programs are servicing clients on a range of levels including greater feedback from clients, staff and community involving measurement tools including surveys, psychometric testing and a new IT system. This new data and information will show how the changes are being made. This evidence-based information will inform Windana's ongoing systems and processes. "To be honest, most rehabilitation services will tell you how great they are, how much they achieve and the successes they are having. This new measurement framework will give us the real truth."