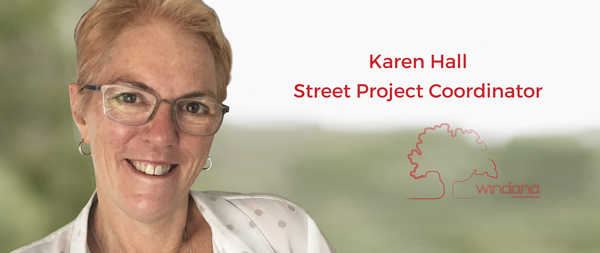 Meet Karen Hall, Street Project Coordinator. She works on the Street Project, a partnership between Windana and Sacred Heart Mission, that sees her working directly with some of the most marginalised people in our society. "There is no such thing as a typical day," she says. "I have learnt to just roll with what is presented and, at all costs, stay calm." Both organisations work in the inner city St Kilda region of Melbourne. The collaboration is a critical partnership that connects Sacred Heart's focus on addressing homelessness, social exclusion and disadvantage with Windana's drug and alcohol recovery services.
Karen works with people who are homeless, or at best, living in tenuous accommodation, who are struggling with drug usage and mental health issues and are disengaged from the community and community services. Part of the role is to provide people a respite from what Karen describes as a "relentless daily grind to find a place to sleep, eat and just survive until the next day when it starts over again".
After nine years with Sacred Heart, and six years working with Windana, her attitudes have shifted. "I have learnt often the best and hardest way to respond to a crisis is to do nothing other than sit with the person moving through the challenge," she says. "As community workers we generally go into 'fix it mode' taking over the decision-making process for the people we are working with." Experience has shown her that, as a rule, a crisis will resolve without immediate outside intervention. "My policy on everything is 'keep it simple'," she says.
Taking the time to sit with people and listen without judgement is central to Karen's approach. "We need to understand that people are more than the boxes of diagnosed complexities they have been placed into and that need fixing. People don't just want to be fixed," she says. "People want to connect and have hope and meaning with the community they have become disconnected from."
The people Karen works with are dealing with ongoing and relentless trauma and chaos. There is no weekend off or holiday leave from their situations which is why Karen has found that creating a calm, safe place, a moment of respite can be the start of something positive. "Assisting people to step away from their problems and just be listened to and heard as real people can at times assist with the small shift that is needed for change to begin." The pathway into Windana support services for Street Project service users is often via the Windana Health and Wellbeing Clinic in St Kilda, a place known for its encouraging, supporting environment. "It is a gentle step into a whole new world for many people without the added fear of rejection," she says.
Street Project works with people to find suitable housing, opportunities to connect with the community, a sense of meaning and purpose in life and empowerment and control over the direction their life takes. For Karen, success for her and success for her clients centres around connectedness, hope, identity, meaning and empowerment. When clients come in contact with members of the Street Project like Karen, they are able to connect into Sacred Heart Mission and Windana. "They don't have to be actually moved into a regular service relationship," says Karen. "You are the doorway to that community."