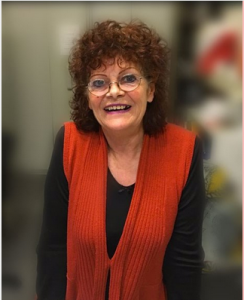 Meet Cheryl Bea, who works on the frontline of Windana's work with the community, answering constantly ringing telephones at main switchboard. She needs the skills of an air traffic controller, caring aunt, lateral thinker and logistics expert all rolled into one to get through each day.
She takes a call from a young woman in Ringwood, inquiring about rehab, and you can see her capacity to care, explain how the system works, take down key information and ensure that the caller's first contact with Windana reflects the 'Windana way' of really treating people with respect, humanity and compassion (all while other calls are coming in); trying to make the experience human rather than institutional. "What I love about the job is just about everything," she says. "I am not scared of dealing with people in crisis."
Cheryl has spent the 12 years continuously working with people in crisis. "To me, this is what happens in life," she says, able to calmly deal with whatever callers dish up. Cheryl worked at St Kilda's Sacred Heart Mission before joining Windana in 2009. "I love dealing with all the clients. You need to be able to read between the lines, find out what they need. Many callers say they need this, they need that, but it is actually some other service that is right for them."
Cheryl has a background in more conventional roles in personnel and the film industry but she prefers a job that fits with her compassionate and caring nature. She sees her role as trying to offer people realistic support, and connecting them to Windana's people and the recovery process. "These days, everyone is angry, and everyone wants a quick fix and wants to have a bed waiting for them exactly when they decide to get help. I help explain that it takes a bit of time to get things sorted, and that at least getting into recovery can give them a break. Our detox is just the best, truly the best."
So next time you call Windana and you have to wait a moment or two, take a moment to think about who else might be on the line talking to Cheryl.