When Windana's Maryknoll TC residents jog onto the football field, they bring out each other's best. Away from the game, it's a similar story for the organisations that make Reclink's South East League AFL program happen.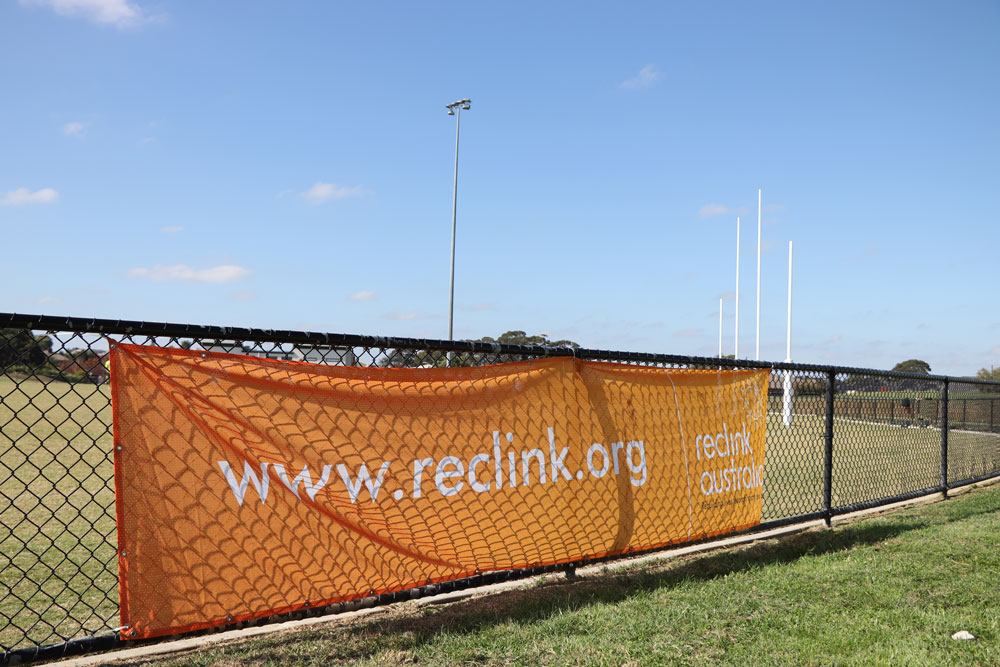 Richard Price knows the value of being on a team. As Maryknoll TC's Recreation and Community Development Officer, Richard looks after activities such as Landcare, outdoor education and of course – the Cardinia Tigers' football program.
The Tigers were created in 2017 as a direct response to addressing AOD challenges in and around the Cardinia Shire LGA. Richard describes it as a strategy to "engage the disengaged."
Windana collaborated with Cardinia Shire Council to kick off the project. Reclink was then engaged to create the South East fixture that the Tigers play in – building a league of teams from Cranbourne, Noble Park, the Peninsula and Gippsland's fringe. Victoria Police contributed funds to purchase Tigers guernseys and supplied their officers to coach. Cardinia Shire provided the team with a home ground in Officer, support accessing grants and a suite of promotion. Follow Bless Collective rolled up their sleeves to serve food at the end of each home game.
Importantly, Windana supplied the players!
With the Tigers and the South East league assembled, the first step was to provide mid-week sport activities to people feeling isolated. This would in turn create pathways for people to engage further with the community through resources made available by the Safer Communities Group. Driven by the Cardinia Shire Council, this collaborative network is supported by a host of diverse organisations including Windana, Reclink, Victoria Police, Alcohol & Drug Foundation and Parks Victoria.
The 'rep side' of organisations and agencies is an example of an incredibly successful partnership. Each brings something unique to the table, or field, as it were.
The Cardinia Tigers are made up of Maryknoll TC residents (from any phase, so long as their Commitment has been completed), Aftercare clients and program graduates. Members from the broader community are also welcome so long as they're safe for residents and volunteers to be around. Health is paramount – players undergo a medical check to make sure they're ready to play, and there's a firm rule of 'no mouth-guard, no game'.
At our Maryknoll TC, residents are given the choice to include football as part of their rehabilitation journeys. With the football program now in its fifth season, Richard says it's been a delight to see former TC residents who have since graduated come back just to play. Others have gone on to play football or other weekend sports elsewhere in their local communities, after experiencing the connectedness that team sports can bring to life.
Richard says that in many ways, the Reclink football program's values are an extension of what residents learn in the TC. It also provides residents with an opportunity to act out Windana's pillars of love, honesty, respect, trust and concern with their teammates.
"Residents become aware of the skills and coping strategies they have developed from the TC and how readily these new attributes can be utilised throughout a game or at training. As an individual's confidence grows stronger, attitudes turn towards making sure everyone gets a go!
Sharing and helping others to shine is part of the culture. It requires a shift in attitude at times, but it gives individuals a greater sense of community rather than focusing on themselves."
Richard says that the game gives residents the opportunity to cope in challenging situations, where they may have responded differently in the past. New skills come into play, including the ability to share their needs with peers. The self-esteem that comes from contributing to the team's success is also important.
That said, playing to trounce the other team is not in the program's spirit. Scores are recorded but not brandished around. Richard says that when a recent match ended in a draw, both teams were thrilled. Success is about playing well, being part of a team and having fun.
Reclink's football program also nurtures the emergence of new leaders among the Tigers. This is significant as mentoring others can be a powerful part of a resident's recovery.
"The game creates an opportunity for roles to be given real meaning – with Senior Residents taking roles of responsibility that include supporting others and mentoring appropriate behaviour."
A prime example of mentorship-in-action was this season when the Tigers hit the field with new training-mates from Outlook.
"Residents from Windana welcomed the new team members, making sure they had boots and jumpers to train in, including them in the training drills and helping them to feel part of the team…
By applying TC values, residents experienced the benefits in giving back what they had learned through their recovery, with a realisation that the way they now engage with the wider community has beneficial impact on themselves and others."
When looking at how the Reclink football program helps players grow, it's important to recognise that the Tigers' coaches are predominantly Victoria Police members. Richard says that the relationship-building nature of football, the respect built during play and the conversations between players and coaches break down barriers.
This season, the Tigers seized the opportunity to train and play whenever permitted and in-line with COVID restrictions. Arrangements for the Grand Final at St Kilda's Peanut Farm Reserve (traditionally a very special day for players and supporters) are being revised as the situation evolves. Next year, Richard is looking forward to getting the season up and running with less disruption.
Back at Maryknoll, Richard says football creates cohesion amongst residents – both through playing and cheering on of peers.
"Footy strengthens the resident culture at the TC, providing excitement as everyone looks forward to the next game or can tell the stories of the one last week."
Carn the Tigers!
Check out the key players:
Cardinia Shire Council
Cardinia encourages a sense of community and belonging across Cardinia Shire's 30 townships, by focusing on partnership and supporting people.
Reclink
Reclink Australia provides evidence-based sport and art programs to create socially inclusive, life-changing opportunities.
Outlook
Creating and facilitating sustainable opportunities for people with a disability to live, work and play within our communities.
Victoria Police
A page about how Victoria Police works with the local community to reduce the impact of crime.
Alcohol and Drug Foundation
ADF reaches millions of Australians through sporting clubs, educational institutions and communities, by supporting and informing drug and alcohol prevention programs, and through the provision of educational information.
Follow Bless Collective
Supporting the community by providing collective services, programs and support to those in the Cardinia Shire and beyond.