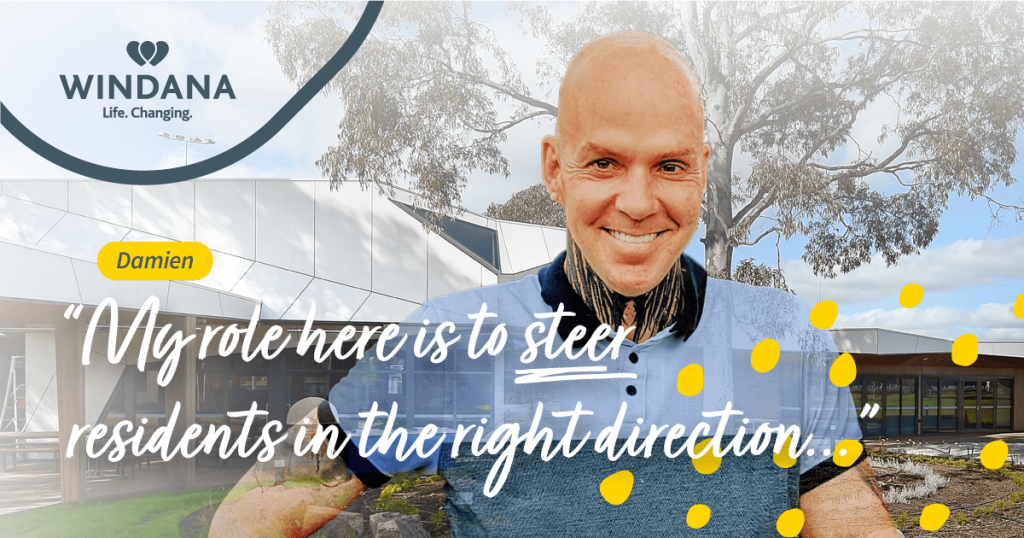 Windana's Peer Workers use their lived experience to support Therapeutic Community residents through the phases of residential rehabilitation. Damien Chandler – Peer Worker at Barwon Therapeutic Community – is helping to create a safe space for recovery.
"Peer Workers understand what residents have been through because we have our own stories and lived experience. That's why we're here. That's our superpower!"
Each Peer Worker's role at Windana is unique and is shaped by the Peer Worker's strengths and interests, as well as the needs of the Therapeutic Community itself. Some Peer Workers carve a supportive niche by working alongside residents in the kitchen, garden and in therapeutic groups. Others run programs that reflect their skills and backgrounds, such as art. Peer Workers help finetune elements of Windana's programs to best meet service users' needs. They also nurture new residents, helping reduce rates of early discharge.
Trust is paramount in interactions between residents and Peer Workers, and they are often the go-to for residents who want to talk. Peer Workers also form a safety-net by ensuring other staff are aware of certain community dynamics and the needs of individual residents.
"It's important that all staff are on the same page, so that Therapists and Key Workers can give residents the clinical support and guidance they need."
Peer Workers act as 'accountability coaches', recognising and responding when residents need support. For Damien this means working with residents around honest expression, relationships with peers and owning their important roles in running the Therapeutic Community. The goal is to help residents consciously address behaviours during their program – while gaining skills to prevent relapse.
"My role here is to steer residents in the right direction, and that direction is back to the community."
For Damien, a recent highlight in the Peer Work role was helping develop a Conflict Resolution Group based around Marshall Rosenberg's Nonviolent Communication Model. This Group helps residents develop skills to manage conflict constructively, and without turning to alcohol or other drugs.
"Setting up the Conflict Resolution Group has been the best thing I've done here at Windana," says Damien, who proudly champions this transformative group across Windana's Rehabilitation Services.
Damien finds it immensely rewarding to see residents grow in confidence while at Windana, and hear of their ongoing successes in meeting health, family, education, financial and career goals after graduating.
"We give residents real life skills that they can take into the world, and that's my passion."
You can find out more Windana's Therapeutic Communities here – https://windana.org.au/services-category/therapeutic-community-for-adults/
You can read more about Windana on our latest Annual Report available here – https://windana.org.au/wp-content/uploads/2022/12/20221201_Windana-AnnualReport_2022_40pp_web.pdf