Enrolled Nurses, Registered Nurses and Nurse Practitioners support clients and other staff right across Windana's services. For International Nurses Day 2022 we caught up with Ryan, who's a Nurse Practitioner in our Non-Residential Withdrawal (NRW) team, to learn about being a Nurse Practitioner at Windana.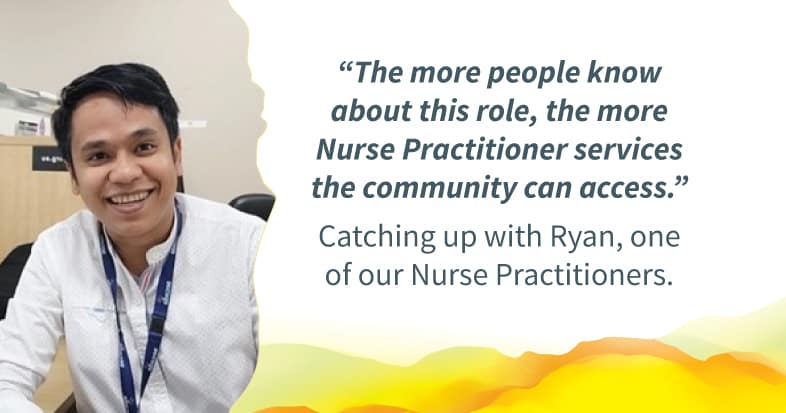 Tell us about your role as Nurse Practitioner in Windana's NRW team.
I began working for Windana's NRW home-based treatment program in November 2021. I'm based at the South Eastern Consortium of Alcohol and Drug Agencies (SECADA) in Dandenong. My role provides support to clients needing withdrawal treatment in the comfort of their homes.
My role includes prescribing treatment/s for clients receiving home-based care and ordering pathology and/or diagnostic tests when needed.
Having a Nurse Practitioner within the NRW service gives convenient and easy access to AOD treatments for both clients and Windana. This saves a huge amount of time liaising with client's GPs to formulate management plans, e.g. prescriptions for AOD medications.
I see the role of a Nurse Practitioner – not just within the NRW service but in AOD services in general – as filling in the gaps we have in the sector.
What skills and expertise does a Nurse Practitioner need working in AOD?
You need to have knowledge of AOD addiction and management, plus skills in how to implement it, as the treatment varies for individuals based on factors like substance use, amount of alcohol intake, other health co-morbidities, etc.
Some people who are affected by AOD also have underlying contributing factors such as multiple health concerns (e.g. chronic diseases, mental health issues), or social and family concerns. You need to deal with these other health concerns and not just AOD alone. Case Management is a very important skill one must have.
Effective communication is a must because you work within an interdisciplinary team and especially at SECADA – wherein different agencies work together – collaboration is important. There is also the task of liaising with external stakeholders (such as GPs and pharmacies).

How does your unique scope of practice help support clients and complement the work of others?
It really saves a huge amount of time liaising with a client's GP before treatment can start.
As a Nurse Practitioner, I can prescribe treatments and medications needed and order pathology tests without waiting for GPs to do these. The role complements other AOD professionals when managing each client's unique case. One client might need family counselling whereas another client might need chronic disease support. By becoming aware of a client's needs, we can promote better collaboration with other AOD workers.
What's most rewarding about being a Nurse Practitioner at Windana?
There are few points worth mentioning! One of them is when I implement personalised treatment plans according to each client's individual needs. The treatment is more personalised when you spend time with the clients and get to know their stories.
We visit clients at their places to ensure that all is well clinically, so for clients to welcome us into their homes is something special. This means clients trust us and believe in what we do.
It is also rewarding to promote the Nurse Practitioner's unique role to our clients. It's a great way to let the community know what Nurse Practitioners can do. The more people know about this role, the more Nurse Practitioner services the community can access.
Lastly, one of my specialities is Chronic Disease Management. I find it rewarding to educate my clients around their other health conditions, such as diabetes and hypertension.
Please share anything else people should know about Nurse Practitioners.
The Nurse Practitioner is a unique role for nurses.
The role is quite new in Australia (began in 2001), compared to other countries like the USA where it began in the 1960s. A Nurse Practitioner is an experienced Registered Nurse who has completed a master's degree with core units of research, pharmacology and diagnostics to be endorsed as Nurse Practitioner.
Aside from prescribing medications and ordering pathology and imaging, a Nurse Practitioner can refer to other medical specialists such as Endocrinologists and Geriatricians, as well as allied health practitioners.
Nurse Practitioners practice collaboratively with other health professionals to improve access to healthcare for Australian communities through health promotion, disease prevention and health management strategies. They improve health outcomes for specific patient populations or communities.
Nurse Practitioners provide a wide range of healthcare services including the diagnosis and management of acute, chronic and complex health problems. Nurse Practitioners work in various healthcare settings such as primary care clinics, hospitals, rural and regional health and specialist clinics.
Happy International Nurses Day!

Useful resources:
Windana Non-Residential Withdrawal Program leaflet
A two-page PDF leaflet with information on the NRW service including overview, eligibility and referral information. Windana has NRW nurses working in the Casey, Cardinia, Greater Dandenong, Mornington Peninsula and Barwon areas.
SECADA
South Eastern Consortium of Alcohol and Drug agencies where Ryan is based. SECADA is a single point of contact for a large network of AOD services and offers Intake and Assessment for people in the South Eastern Melbourne catchment.
Australian College of Nurse Practitioners
A page with information on the varied roles of Nurse Practitioners within Australia's healthcare systems.