Windana's Transitional Housing program provides a secure place to live for people recovering from AOD dependence – whether they've been through a Therapeutic Community or not. Its requirements also help residents focus on their recovery goals. We spoke with Nicole, Windana's Team Leader Community Programs, to find out more about this important program.
What is Transitional Housing?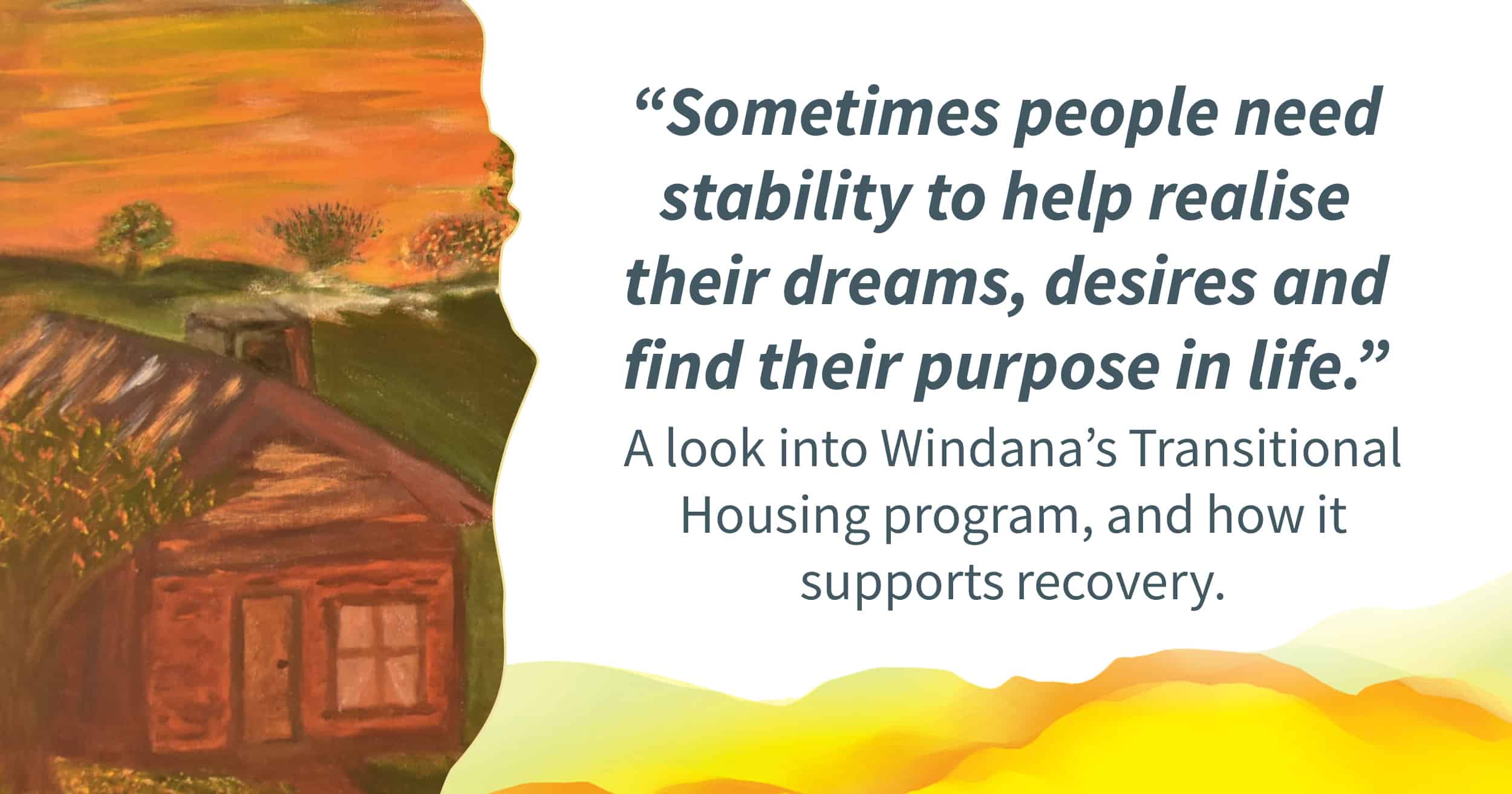 Nicole describes Transitional Housing as a 'stepping stone' to long-term accommodation.
The program provides stable housing to people recovering from substance dependence, including people who have been through Windana's Maryknoll and Grampians TCs. Windana's current Transitional Housing properties include a Share House and several single properties around Melbourne's southeast. Leases last up to one year and are affordable in comparison to private rental. During their stay, residents benefit from living independently in a safe environment. If a resident is a parent, the program often means families can live together.
Nicole leads the Community Programs team – consisting of an Aftercare Coordinator, Support Worker and Community Recreation and Development Worker. Even when COVID placed new challenges on the way the team worked, they were still able to maintain success and protect the safety of residents.
Stable housing is extremely important in supporting ongoing recovery. Nicole explains why.
"So often, a person with substance dependence has experienced significant loss. This can include a loss of family support, employment, self-esteem and housing.
"An effective way to help support a person's recovery is by providing stable housing while they take steps to rebuild their life.
"In Transitional Housing, we see parents reunited with their kids and become upstanding members of the wider community. We also see people paying forward the support they have received, because giving back becomes their passion as well."
These sentiments are echoed by a former resident who said Transitional Housing gave them an opportunity to experience secure housing at a time where stability was so crucial.
"It was paramount for me to have somewhere I could afford but also be in a safe and supportive environment," he said.
"[Transitional Housing] gave me positive reinforcement that I am capable and worthwhile of independence and a life filled with purpose."
What residents do in Transitional Housing
Like all Windana's programs and services, Nicole says that Transitional Housing is evidence-based, as people with ongoing support are more likely to maintain their recovery when integrating back into the community. We also know that people experiencing AOD challenges often already lack stable housing. Our survey data shows that 24% of people accessing Windana services report as being homeless[1].
Bolstered by support from Nicole's team, residents in Transitional Housing take control of their recoveries. This involves sticking to Individual Treatment Plans (reviewed every three months), attending regular peer support and recovery groups, finding employment, securing long-term housing, working out budgets and checking-in with support workers.
"Most residents will be working or studying during the week, while attending NA or other self-help groups in the evenings and on weekends" says Nicole.
"They're also busy building on relationships with family and friends, maintaining their living environment and engaging in community activities. Self-care is also an important part of the program."
Residents are responsible for the general wellbeing and culture of the property they are living in. Nicole says this personal accountability is a part of the recovery process.
"The initiative that residents need to show in Transitional Housing instills a sense of accomplishment, and the satisfaction that comes from making healthy choices.
After leaving Transitional Housing, residents move into other rental accommodation with new skills for living independently. Most of the time this is to private rental, but community and public housing are also used if available and suitable.
People can apply to access Transitional Housing with Windana if they have been in recovery for a minimum of 90 days. Due to demand, the waiting list can be up to twelve-months and applicants need to stay committed to recovery while they wait for placement.
Transitional Housing and Integration Housing
It's important to also understand that Windana's Integration Housing is distinct from Transitional Housing. Integration Housing is an extension of the TC – allowing residents to gain independence while reducing to a less-structured program as they move closer towards life after residential rehabilitation. In Integration Housing, residents remain connected to the TC while pursuing new interests and activities, building social relationships and working through challenges of living in the wider community. Windana currently runs Integration Housing properties in Mentone and Pakenham for Maryknoll TC residents, and in the Ballarat area for Grampians TC residents. Options are being explored for residents of the new Barwon TC. During the challenges of 2020-21, long-term stays in both streams of housing increased, particularly in Integration Housing where long-term stays rose by almost 50%.
A final word
When it comes to Transitional Housing, Nicole says the ultimate goal is to help people focus and find their way forward.
"Everyone has aspirations of what they want their future to look like.
"Sometimes people need stability to help realise their dreams, desires and find their purpose in life.
"That's what we're here for."
Useful resources:
Windana Transitional Housing leaflet
A downloadable, emailable and printable two-page PDF on Windana's website that provides information on Transitional Housing and the recovery activities that residents engage in during recovery.
Launch Housing
Get Help page of Launch Housing, whose mission is to end homelessness. People experiencing homelessness can get information on crisis accommodation and support services by calling 1800 825 955 (open 24/7), visiting the website or going to an access point in Collingwood, St Kilda or Cheltenham.
DirectLine
Offering alcohol and other drug counselling and referrals, DirectLine is a first step for getting support and finding a local Intake and Assessment service. Available 24/7 through the website or by calling 1800 888 236.
Art pictured is called Autumn Landscape in Gold and has been used with permission.
[1] Impact survey data represents 45% of Windana's clients, with the client sample largely consisting of clients who use residential services (N=360 (TC-N=162, DW-N=182, CS-N=16)