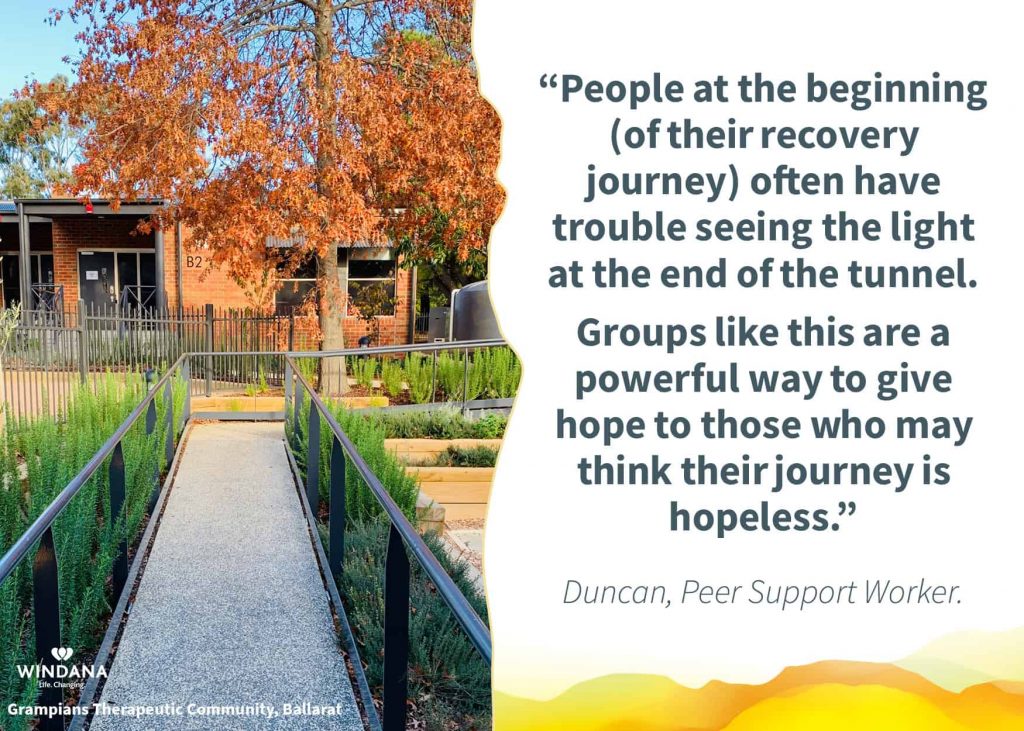 Our Peer Support Program is a vital part of resident's recovery, offering invaluable support and insight for residents in treatment. Many of our Peer Support Workers are former clients, like Duncan, who last month established Windana's first Peer Group based in Ballarat.
Duncan has been part of the Windana community since 2005.
"I did my first program in 2005/06 at the Maryknoll TC, and graduated after 12 months," Duncan explained.
Duncan stayed sober for five years, after which his recovery started to become a little wobbly.
"I was in and out of other rehab services along the eastern seaboard, and eventually landed back at Windana – this time at the Grampians TC."
It was here that the program really resonated with Duncan.
"I found the smaller program and community at the Grampians TC really beneficial. One of my tactics during my recovery was to hide in a crowd. In a smaller community I wasn't able to do this."​​​​​​​
​​​​​​​"And to be given another chance by Jodie and the team – the compassion and love they showed me – really shocked me into a better headspace."
After graduating, Duncan wanted to make sure other residents from Ballarat and surrounds had the best chance to stay on track for their recovery.
"An important part of my social circle is made up of peers from my first program in 2005. For me, the periods where I fell over coincided with losing connection with them."
"I met some beautiful people at Windana, and for me, staying connected to that group works for my recovery. I wanted to find a way to give other people in the area the same supportive connection."
With no previous peer support group established in Ballarat, Grampians TC residents would have to go to St Kilda for peer support. Seeing the gap, Duncan worked with the GTC team to establish a strong peer support program in central Victoria.
The first group meeting was held on January 14 this year.
"At the moment the group is for late-phase 3 and integration residents. I've already had past graduates express an interest in joining, so I'm really hopeful the group will cement itself as a weekly thing that happens in Ballarat."
The Ballarat Peer Group follows the same structure as other already established peer groups. Beginning with a feelings check, followed by check ins on how people's weeks have been – with the option of being open to feedback – and then going around the group again to name the things that each person will do in the coming week to stay on track.
Duncan is hoping to soon offer hybrid in-person and online meeting options, as well as an evening meeting for people working and studying during the day.
"People at the beginning (of their recovery journey) often have trouble seeing the light at the end of the tunnel. Groups like this are a powerful way to give hope to those who may think their journey is hopeless."